Sanford Pencil Factory Tour
by Doug Martin

Page 2
---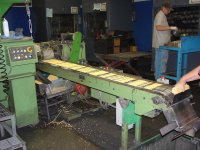 FIG. 9. Colored cores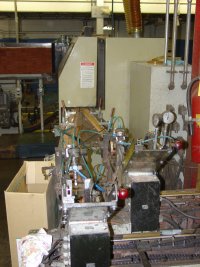 FIG. 11. Slat preparation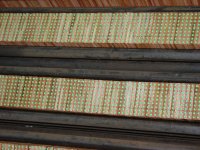 FIG. 13. Pencil 'sandwiches'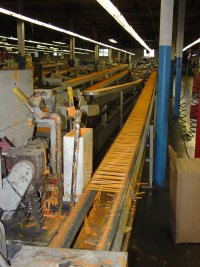 FIG. 15. Pencils get painted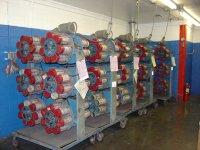 FIG. 10 Colored cores being cured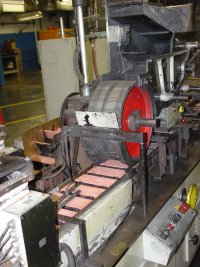 FIG. 12. Lead placement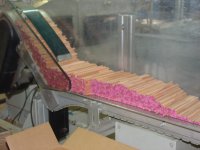 FIG. 14. Pencils after milling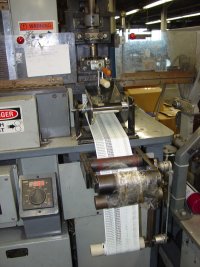 FIG. 16. Stamping machine
Once the pencil cores are finished and ready for assembly into pencils, the processes are virtually identical whether the pencils are graphite core or colored core. For the remainder of the tour, images may show either type to demonstrate a step in the manufacturing process.

Colored cores are also formed and cut to length (Figure 9). They are very flexible and rubbery, and must be rolled during the final curing process to keep them straight. They do not undergo the high temperature process of a kiln, but are rolled in cylinders (Figure 10) for up to several days until they are ready.

Now it is time to match up the pencil cores and the pencil slats. I do not have any photographs of the slat grooving process. In Figure 11, near the center, you can see two rows of slats coming out of the machine, where a roller applies the glue to them. Figure 12 shows adjacent machinery which collects prepared cores fed in from the top onto the large roller, as slats are fed in at the bottom. The roller deposits the cores precisely into the grooves, and a second slat is placed upside down on the first. The resulting 'pencil sandwiches' are collected and compressed under high pressure for 24 hours or longer until the glue is completely cured (see Figure 13). I saw many racks of these 'sandwiches' awaiting the next process, that of cutting apart the individual pencils. This process was completely enclosed and could not be photographed, but Figure 14 shows the newly cut and sanded pencils. Next they are conveyed to the painting stations. In Figure 15, unpainted pencils are fed from the left, and the painted pencils are ejected onto the conveyor. If you look closely at the 'white box' you can just see the ends of the next six pencils emerging. The conveyors move the pencils along until the paint is dry, or they may get another coat of paint at another station if needed. These conveyors move pencils along very quickly through every step of the process.

Sanford has both old and new machinery for stamping pencils. Figure 16 shows one of the older machines. You can't see the pencils in this shot, but you can see the used stamping foil as it is collected on the take-up spool.
Previous Page - Next Page
---
Copyright © 2005 Doug Martin & The Pencil Pages